When hot, humid, muggy weather rolls in during the summer, it's best to take shelter in a home that's properly cooled. With months dedicated to your home's AC system, it's important to make sure it's always in top functional condition. A-1 Heating & Cooling, Inc. is here to make sure it is. We offer complete AC service in Bear Creek, Harpers Crossroads, Bonlee, Goldston, and Chatham County, NC.
Our Capabilities
Our AC service team has decades of experience delivering complete air conditioning services to homeowners. Whether you need a new unit installed and integrated into your home or you're dealing with minor problems that just won't seem to go away, we're ready to help: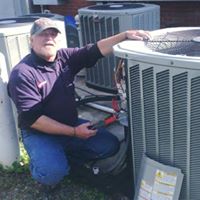 Troubleshooting:
Hearing a strange noise coming from your AC unit? Lights flickering when it kicks on? Don't feel like you're getting the right level of function? Give us a call to troubleshoot any potential problems! We'll get to the bottom of things to provide you with complete peace of mind in your AC unit.
AC Repair:
We're the local leaders for AC repair in Bear Creek, NC and take pride in our workmanship. No problem is too big or small for us to take on and we always put forth every effort to ensure the work we're doing is optimal. Rely on us for reliable workmanship and quality parts, no matter the scope of your need for air conditioner repair.
Maintenance:
Boasting one of the best maintenance plans in the area, our goal is to assist you in keeping your HVAC system in top working order, all year round. We'll help you avoid air conditioner repair in Bear Creek, NC by staying up to date on all those little tasks that keep it working perfectly.
Installations:
When the time comes to retrofit your AC unit with a newer, more efficient model, make sure you're calling us. Not only can we help you pick the right unit from a reputable brand (Trane) to fit your budget, we'll take care of the complete air conditioning installation process.
Experience Quality AC
Don't live uncomfortably throughout the hot summer months. Instead, take shelter in a home that relies on quality AC! The A-1 Heating & Cooling, Inc. team is ready to deliver repairs, maintenance and air conditioning installation that keeps your system functioning flawlessly. Contact us today at 919-837-5467 with questions to schedule an AC service or maintenance appointment.