Air Conditioning Installation in Bear Creek, NC
A-1 Heating & Cooling Inc. is your foremost authority on HVAC installation, repairs and maintenance services. Serving Bear Creek, NC since 1984, we operate with experience, excellence and integrity, delivering best-in-class services to local homeowners. Call us for a full gamut of heating, cooling and ventilation services, including emergencies!
Complete HVAC Services for Your Home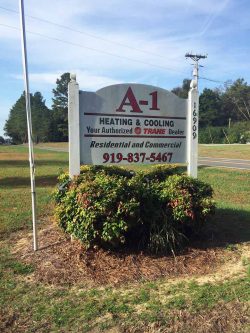 The air that comes out of your home's registers and vents—whether hot or cold—is critical to your everyday life. If you can't cool effectively in the summer or heat completely in the winter, you're not going to live comfortably! A-1 Heating & Cooling Inc. is here to make sure that no matter what season it is, your home's HVAC installation in Bear Creek, NC is living up to your expectations. We deal in all things heating, cooling and ventilation, with abilities to install, repair and maintain these critical systems. From thermostat problems to major malfunctions, routine maintenance services to troubleshooting and component changes, we do whatever it takes to ensure maximum comfort and quality of life.
Not only is our team intent on providing customers with reliable repairs, we're also your foremost experts on heating and air conditioning installation in Bear Creek, NC. We'll remove your outdated, inefficient, ineffectual installation and replace it with something exceptional, adding value to your home and quality of life. Plus, when it comes to maintenance, our service program can't be beat! We'll stop by and thoroughly inspect and tend to your heating and cooling system twice a year, with discounts on parts if anything needs to be replaced. Give our team a call the next time you have HVAC needs or questions, and we'll make sure you have complete confidence in your home's heating, cooling and ventilation.
Take Control of Your HVAC
Get the comfort and quality of life you deserve in your home! Our team is ready to provide the installation, repair and maintenance services you require. Contact us today to get started.
Providing HVAC installation and repair services in Bear Creek and Chatham County, NC and surrounding areas:
Goldston, NC
Bonlee, NC
Gulf, NC
Cumnock, NC
Lee County, NC
Bennett, NC
Siler City, NC
Highfalls, NC
Moore County, NC
Sanford, NC
Robbins, NC
Pittsboro, NC
Ramseur, NC
Staley, NC
Moncure, NC
Bynum, NC